At St Mary's Catholic Primary Academy we believe that reading is an essential life skill and we are committed to enabling our children to become lifelong readers. At the heart of our strategy is our drive to foster a love of reading and enrich children's learning through exposure to high quality texts.
Reading is a skill that enables children to develop their learning across the wider curriculum and lays the foundations for success in future lines of study and employment. We recognise the importance of taking a consistent whole school approach to the teaching of reading in order to close any gaps and to target the highest possible number of children attaining the expected standard or higher.
All pupils have opportunities to develop their reading skills daily, and are encouraged to read at home with an adult. We provide a text rich environment, in order to encourage a positive culture of reading throughout all classes and promote reading for pleasure. Through high quality teaching and learning experiences we will develop children's skills and competence so that they are fluent readers who can read to learn.
Read, Write, Inc Spelling Programme
Once children are confident in Phase 5 phonics, they begin to focus on learning their spelling patterns and developing their comprehension reading skills. At St Mary's we use the scheme 'Read, Write, Inc Spelling' to support our children to learn spelling rules and then with increased confidence, learn how to spell words with these spelling rules in. This scheme is introduced in Year 2 and runs through to Year 6.
Whole Class Guided Reading
For our curriculum planning of reading, we follow the National Curriculum and use an approach of 'VIPERS'. When children are secure using Phase 5 phonics, we start to focus more on the reading comprehension and reading more complex texts fluently.
V - Vocabulary
I - Inference
P - Prediction
E - Explanation
R - Retrieval
S - Sequencing/Summarising.
These areas are types of questioning that we use to support the children's learning and understanding of reading.
VIPERS sessions are based on high quality texts with challenging vocabulary which is explored and used throughout lessons through talk and writing activities. Our VIPERS sessions usually link to the text which the class are covering in their English sessions. This also tends to link to our theme of topic in other curriculum areas (History/Geography/Art & Design/Design Technology). Having our reading curriculum link to other areas of the curriculum ensures engagement from the children and more links to be made through their learning.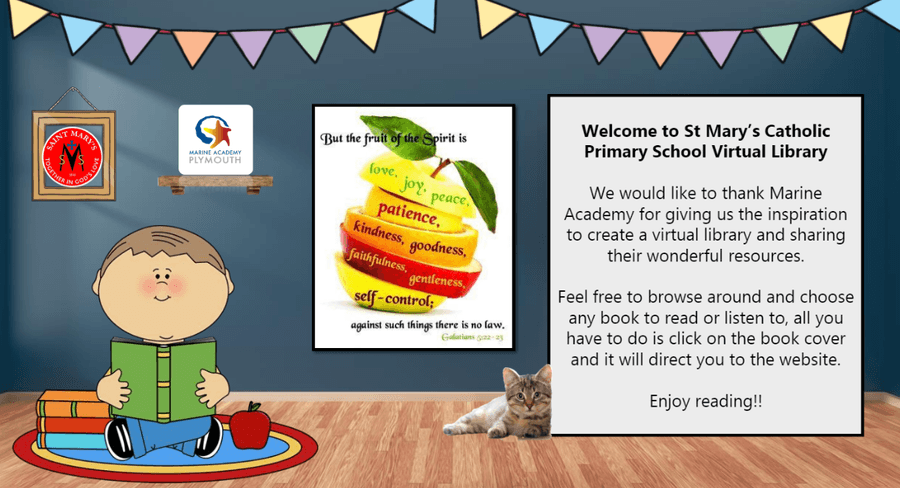 At St Mary's we know how important it is to instil a love of reading in our pupils.
Visits to the School Library every week.


Each class has a 'class read' where adults in their class read to them to model good reading and encourage enjoyment of high level texts.

Children have the opportunity to read independently during the school day.



We love to celebrate World Book Day every year and it is always a highlight of our calendar. Children also have the opportunity to visit different adults in school and have a story read to them.





We also have the book fair who visit school twice a year. Previously, this has helped greatly with raising money to help buy different books for class teachers, topics in the curriculum and for our school library.





As have a good relationship with one of our local bookshops, The Thoughtful Spot, we have been able to take some of our children to visit here and awarded them with a book following a book competition. Promoting this love for reading encourages children to become more involved.




For our Gifted and Talented children, they are given the opportunity to take part in a competition across our Trust which is called Battle of the Books. This requires the children to read complex texts and have a solid understanding of them to be able to answer greater depth comprehension questions.



Visits to the local library every half term.